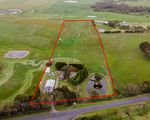 Personable & Professional
We have bought and sold a few houses over the years but never bought and sold at the same time, which can be a very overwhelming experience. We are grateful to Nikki for making the buying and selling process run smoothly and keeping us informed throughout this huge process.
Nikki appraised our home fairly and had potential buyers lined up, ready to view our home.
We are glad we chose Nikki as our real estate agent. Nikki is personable and professional, and I would recommend her as the agent of choice when buying or selling in Portland and its surroundings.
Joe & Roxanne